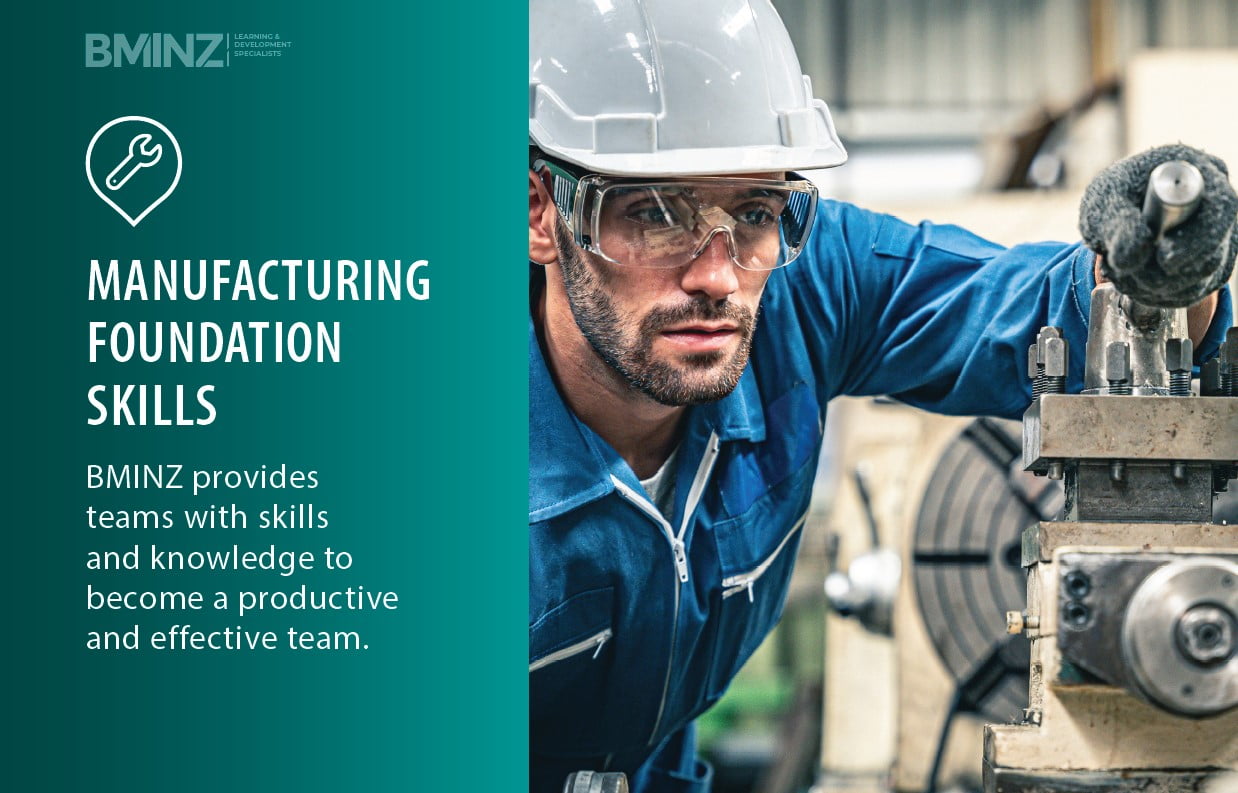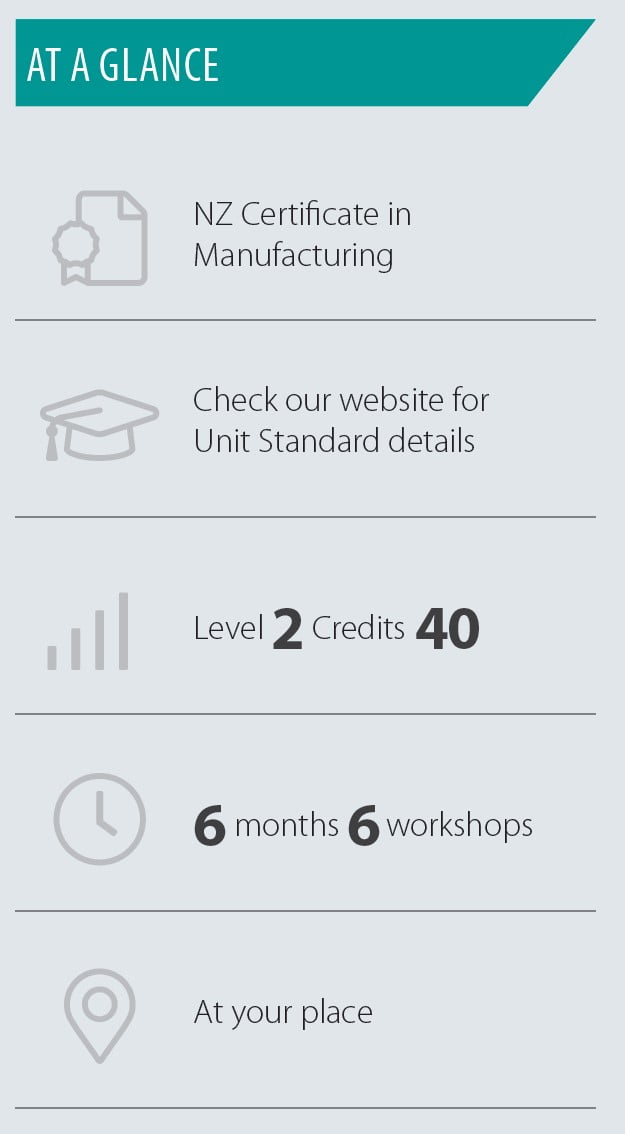 BUILDING STRONG FOUNDATIONS
To give people a confident start in the manufacturing industry this programme works through key foundation skills and covers:
› Health and Safety knowledge and responsibilities › Procedural compliance
› Quality and it's role in making sure products meet requirements.
This level 2 qualification supports a manufacturing workforce that understands why it's important for each person to do their job well. By training safe
manufacturing practices to your floor level staff, you assist in creating a compliant workforce.
Training people to be safe in a manufacturing workplace is a sound investment.
BMINZ trains workers to participate in the safety of the manufacturing industry. Training focusses on safe operational processes as a foundation for safety within the industry.
MANUFACTURING FOUNDATION SKILLS
The NZ Certificate in Manufacturing (Level 2).
This programme is aimed at people who are new to the manufacturing industry, as it will provide workers with the knowledge, skills and behaviour changes to start their career as a good solid worker in the manufacturing industry. Training people at the foundation level reduces risk to your entire organisation.
› Participants on this programme will understand how to apply workplace processes and practices to be a great team member in the manufacturing operation
› People completing this course will learn essential health and safety workplace requirements that relate to their entry level role in manufacturing
› Workers will learn how to communicate smartly to safely follow instructions in a manufacturing entry level role
› Workers will understand how to carry out entry level tasks in a manufacturing operation in a safe manner.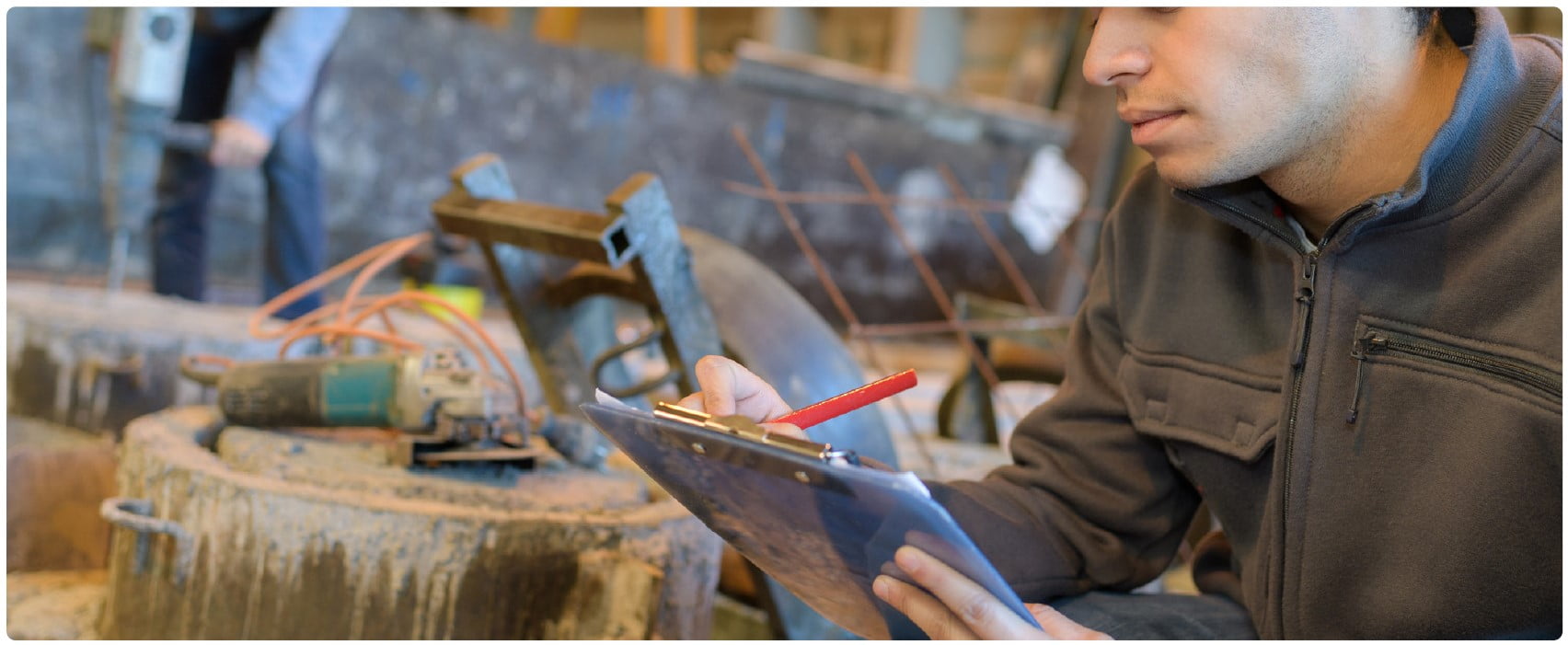 ENTRY CRITERIA
To be eligible to enrol in this programme you must meet the following entry criteria:
› Be aged over 16 years old.
› Be a Citizen or Resident of Australia or New Zealand.
› Open entry. There may be availability to train through your ITO (Industry Training Organisation). BMINZ will work with you to ascertain if you are eligible for a training subsidy through your ITO.